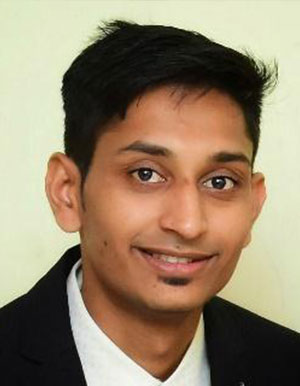 Parag Narkhede
parag.narkhde@sitpune.edu.in
Education
Parag is currently working as Assistant Professor at the Department of Electronics and Telecommunication Engineering of Symbiosis Institute of Technology, Pune. He is the alumnus of Vellore Institute of Technology, Vellore, IN, with Masters in Embedded Systems. He is currently pursuing his doctoral studies at Symbiosis International (Deemed University), Pune, IN.
Research
His area of interest and research includes Multi-sensor/Multi-modal data fusion using estimations and artificial intelligence techniques. Currently, Parag is applying these techniques for accurate orientation estimation of unmanned vehicles, landmine detection application and also for analyzing credibility of the information.
Data Fusion: Inspired by the functioning of the brain, which takes decision based on five different senses, multi-sensor/multi-modal data fusion is the technique of combining information obtained from more than one source of different natures and characteristics. It provides the advantage of more precise and robust predictions compared to that obtained using only one source of information.